Refrigerant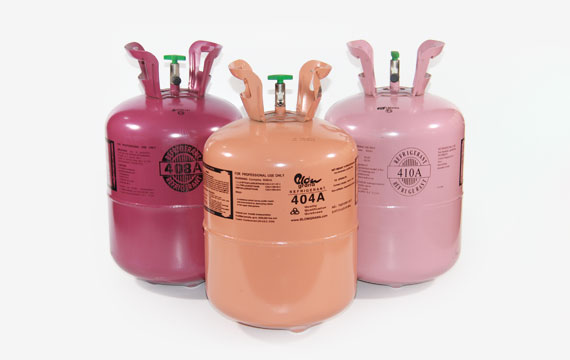 A colourless, non-flammable gas at atmospheric pressure with slight ethereal odour. Supplied at low pressure in metal cylinders.
Also available premixed with UV dye.
Classifications

| | |
| --- | --- |
| H.S.Code | 3824780000 |
| UN Number | 3159 |
| Class | 2.2 |
Package:
Non-refillable cylinder of 6.8Kgs,10.9kg,11.3kg,13.6Kgs.22.7Kgs.
Ton cylinder of 1000Kgs
Can of 340g, 750g, 800g
IGSeOn eTraanl kt yopfe 1:8ton
General type: R22, R134, R404, R407, R410, R507
Uses and Features
- Wide use in household and commercial refrigeration, and automotive air-conditioning.
Properties make R134a suitable for use in medium temperature food cabinets, water chillers and fountainsheat pumps and dehumidifiers.
- Increasing use as a replacement for CFC-12.
- Blowing agent for various foams.
- Propellant for aerosol pharmaceuticals, lacquers, deodourants, perfumes, mousses, air fresheners,
insecticides, cleaning and other household products.